The details and results of the 2012 Super League are being published on this Website.
Please return often!
<<---- Use the side menu to navigate.
---
BRISBANE WINS DOUBLE!
The inaugural Super League has been won by Brisbane in both the Women's and in the Men's Finals. In the Women's Final it is worthy to note that Brisbane's opponents Wide Bay, had previously beaten Brisbane 1-0 in the round robin.
The Women's Final was won by Brisbane's two (2) goals to Wide Bay's one (1) in a closely fought struggle. After having earned their position at the top of the Points Table, Wide Bay looked to be the favourites to many. This appeared to be confirmed when they lead Bribane 1-0 for much of the first half. Brisbane did not score its first goal until about midway through the second half. Brisbane then went on to consolidate their win towards the end of the match. Final score 2-1 to Brisbane!
Meanwhile in the Men's Final it was also a very close tussle indeed. During the round robin matches these two teams had played a high scoring match with an eventual 5-3 win to Brisbane. However, the Final has been won by Brisbane who scored three (3) goals to South West's two (2). Despite difficulty scoring from penalty corners thoughout the match, Brisbane's winning goal came from a penalty corner after full time. Final score 3-2 to Brisbane!
A very big thank you goes to all those, and to Vicki Warren in paticular, who supplied me with the scores and information throughout the Super League Tournament. The concept of this site is to 'keep it simple' while at the same time providing the raw details of match outcomes as timely as is possible. I trust this was achieved over this recent weekend. As always, for more comprehensive details of all Tournaments, visit SportingPulse (SL Men) (SL Women) via the Hockey Queensland Website.
Kim Rendell
PS: You can always let us know what you think of this site via "Comments" on the menu at the top of the page. KR
---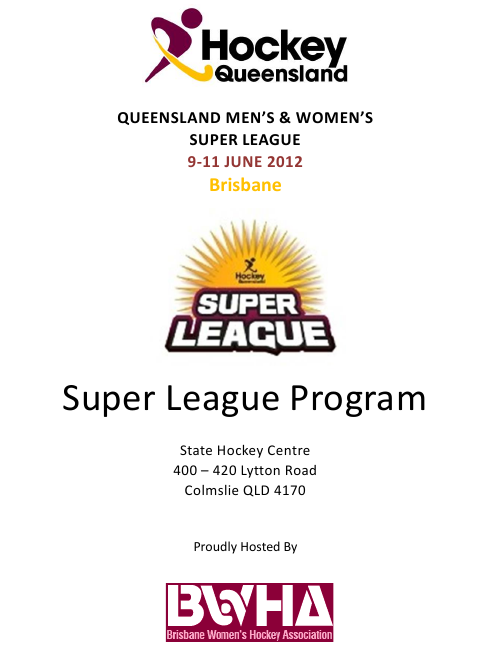 ---
<<---- Use the side menu to navigate.